Victoria and Albert Museum London...

...beautiful and eclectic.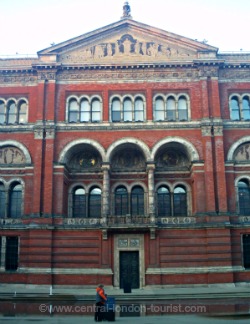 ---
The Victoria and Albert Museum London is a place we had passed countless times on our way to the other museums.
It seemed like such a "grown up" museum, so it was never really high on our list of priorities.
I also had visions of it being full of embroidery crafts and the like.
But being a curious type I decided I had to give it a whirl.
This time we didn't pass by the small entrance that is accessible from the South Kensington Tube Station underpass.
We were going in.
And my goodness!
That unassuming doorway did not give us any clue as to the absolute stunning enormity of the place.
It was here I fell in love...
---
What's The Victoria and Albert Museum London all about?
Well, this particular South Kensington Museum is about a lot of things.
Split into five themes over seven levels.
Orange - Asia

Blue -

Europe

Red/Maroon -

Materials and Techniques

Aqua -

Modern

Purple -

Exhibitions
Within each theme there are many other sub-themes and actually not all of the themes might be your thing.
That's ok, just get your museum map provided by the V&A and choose which areas interest you.
---
The Victoria and Albert Museum London really is an eclectic maze of fabulousness.
Words don't do it justice.
I cannot tell you how much of an impression that place made on me...
...it's stunning!
---
How do you get there?
I always travel to South Kensington tube station (Piccadilly/Circle/District lines) to get to the Victoria and Albert Museum.
It is so fantastically signposted as you walk directly from the station through the busy underpasses.
In fact the access from this station is great for any South Kensington museum.
Knightsbridge tube station (Piccadilly line) is only a ten minute walk away also.
Which is handy if you have been visiting Harrods.
Buses also stop outside the main entrance on Cromwell Road, or if you happen to be on one of the London bus tours you can get off here also.
As always check Transport for London's journey planner.
---
Is it free to get into?
Yes it is!
Amazing isn't it?
It is such a wonderful thing to be able to go into some of London's most amazing museums and see the exhibitions for free.
Especially if like me you have a child who loves gift shops.
---
What about children, will they like it?
I am so glad I brought my son.
He complained a bit at first.
The Exhibitions of Kylie Minogue's dressing room and Annie Lennox's musical career did not impress him...
...but there was so much that did.
He was dumbstruck by some of the stunning architechure and the absolute massiveness of some of the statues.

---
My Top London Tip...
There are always new exhibitions going on.
Don't miss out. Keep checking "What's On" at the V&A website.
I'm going again next week for the exhibition of Hollywood Costumes.
I would have been so disappointed to miss out seeing Dorothy's shoes from the Wizard of Oz.
I believe some Titanic costumes will be there also, so my son will be very happy indeed.
Next year I'll be in again to see the David Bowie Exhibition.
---
Finally, how long do you need to "do" the Victoria and Albert Museum London?
It's huge, it's massive, it's stunning.
It'll take you a long time to see it all. You could spend days in there, or just pop in for a couple of hours.
It'll always be about your time available and interest.
But really, do go and visit and make up your own mind.

---
So there we have it, I hope you have a better idea now of whether visiting the V&A is for you.
As always I endeavour to bring you my unbiased experience of being a Central London Tourist.
And there's lots more to share with you so please read on...

---
Home

›
Museums
› V&A