The London Weather Forecast
can be your friend or foe...
Checking the London weather forecast has saved us a lot of hassle on our travels in London over the years.
The three words that can strike fear into the most organised of people travelling to London are usually: London England weather!!
Mainly because the weather in London and indeed the UK can be so unpredictable.
How can you plan for it?
Indeed, is there any point in planning for it?
And should you take the weather into consideration when deciding upon the best time to visit London?

In a word yes and no...
We have visited London in all sorts!
Rain, snow, ice, howling wind, freezing cold and beautiful hot sunshine.
Sometimes we have had a mixture of all seasons in one day!
We expect to be surprised!
Take today for instance, I sit here writing this on a beautiful, hot and sunny day. The temperature in London is 23 degrees celsius (73 Fahrenheit).
These are the kind of temperatures we should get around July time...
...except we're still in March, only marginally out of our winter.
And while most of us are striding around in our summer clothes, we know it will be short lived. Next week we might have our winter coats back on.
Who knows...?
(Update: The weather dropped by 14 degrees the following week! See what I mean?)
If you're planning your trip to London in advance, it's best to stay open-minded when it comes to the weather in London.
Checking the forecast nearer the time though, will help you to plan better.
---
So how do you find out the London Weather Forecast?

Whenever anyone asks my advice about the weather in London, it is usually to find out a reliable source on how to check the London weather forecast.
I always like to have a detailed London weather report before I set off. One that I can check each day and throughout the day.
The BBC Weather website is fantastic. I use it all the time.
It is easy to use and will give you an up to the minute and detailed London weather report whenever you log in.
It's a brilliant help and will prove invaluable for you when you are out and about in London.
Especially if you happen to be in London on a day when the weather is changeable.
---
You know the London weather forecast, so what should you wear in London?

The changeable London weather forecast will also pose the question of what to wear in London?

I get asked all the time.
Not because I'm some sort of fashion guru but because I know the weather in London can be an unpredictable beast!
The most important thing you can do is to bring the right clothing for every eventuality.
A very wise friend of mine refuses to change her plans, regardless of what the UK weather forecast is. She says...

'There is no such thing as bad weather, just bad clothing'.

Now I don't know where she got that saying from,
but it is very true.
And no...
I don't think
...she was referring to my green rain coat!



A detailed weather report, before and during your trip can be the difference between having a great trip or a miserable one.
---
Remember - Go Prepared for the British Weather!

Even the most detailed weather report for London can be caught out by surprise though.
So always go prepared.
If you go to London in the winter, then plan for rain, wind and freezing temperatures.

Hats and gloves may be needed,
and definitely bring a good waterproof jacket.
You'll need good comfortable shoes, for all the walking too.
Couple this with a few warm layers underneath,
a brolly (or umbrella) in your bag,
and you should be fine.


Then, when you get into the tourist attractions in London, you can peel off those extra layers and be comfortable while enjoying the sights.

---
The weather in London is not all doom and gloom though. Don't let my talk of hat, gloves and layers put you off!
There are occasions when the London weather forecast is for beautiful blue skies and that big shiny thing called "sun".
If you're lucky enough to be enjoying the weather in London during a heatwave...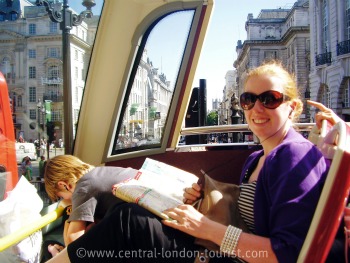 ...then it's suncream, flip-flops and sunglasses all the way!
---

The london weather forecast is also likely to play a part in what transport in London you will use.
London bus tours can still be used if you sit downstairs, but if it is raining you may want to avoid the upstairs.
One time on a freezing February day we had the pick of the seats on the tour bus.
The weather in London put most London tourists off sitting upstairs. But my son and I decided to be adventurous (or mad) and sat upstairs, right at the front.
We were absolutely frozen by the time we got off, so we headed into the National Portrait Gallery for a fabulous warming cup of hot chocolate.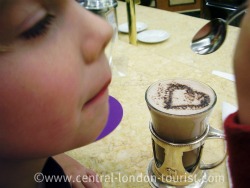 My son still talks about that trip and we both have great memories from braving the elements.
If you think we've lost the plot...
...my best friend will agree with you.
To this day she shakes her head in bewilderment at that story.
---
Weatherwise, when is the best time to visit London?
Autumn, Winter, Spring, Summer? School Holidays or not? When is the best time to visit London?
It really is down to you, visit in the summer and get better weather (not guaranteed though if last summer was anything to go by) or come to London in the winter months and chance the weather.
In winter you'll find that a lot of the attractions will be a lot less busy and the river cruises and tour buses half empty.
If you can miss the rain, you'll be happy you did.
You might be lucky and have cold crisp days, with blue sky and sunshine. It does happen!
Hopefully, after reading this page, the words: London England weather, will no longer fill you with dread!
Just make sure you check the London weather forecast before you leave!
---
London Weather Forecast