London Tourist Attractions
Brilliant Fun, when you know how!

So you're planning to 'do' the London tourist attractions.
You know all of the London sights you want to see (or maybe you don't!) and you're not sure how to go about visiting them all?
It can be so overwhelming trying to work out which London attractions to go to, where they are in relation to each other and the best way to get there.
The amount of London tourist information out there can be mind-boggling.

I want to pass on my knowledge to you about things I have learned when visiting the London tourist attractions.
It all comes from my own personal experience.
We have had a lot of holidays in London over the years and we have seen a lot of the London attractions.
Many times over!
Lets get to it.
---
So How do you 'do' the London Attractions?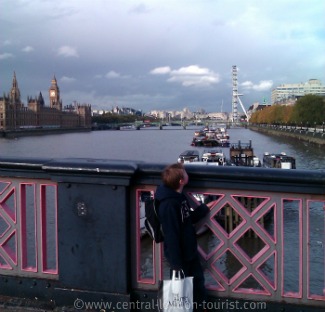 If my experience can help you can avoid some common mistakes, you'll be off to a good start. That's why I have put together my top London tips for you.

If I can help anyone else plan their days out around the London sights better than I did all those years ago...
...the countless pairs of shoes I have worn out on my walks around the London attractions will be worth it!

Remember too that visiting the London attractions can be time-consuming.
You'll need to organise your time and that means knowing what to do.
Whenever we go to see the changing of the guards I always have a plan in place!
There are so many places to see in London, you can find a list of the most well known London tourist attractions here. (link on its way very soon)
Or read on if you prefer to find out which London attractions are either close to each other or "on the same side of town".

---
London Dungeon, Tower Bridge and The Tower of London (housing the Crown Jewels) are all relatively close.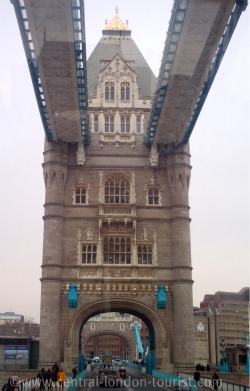 I usually use the London bus tours to get to these attractions.
It's especially good if you're on a short break in London.
The tour buses go over Tower Bridge (right) and as you can see
if you sit upstairs...
...the view is fantastic!
You'll also get a wonderful photo opportunity.
If scary places are your idea of a great London attraction, you can get off the bus at the London Bridge stop.
Head across the road to the London Dungeon.

(Top London Travel Tip - Do not confuse London Bridge with the iconic Tower Bridge above)
You can also walk from the London Bridge stop to:

The Tate Modern art gallery,

H.M.S Belfast,

As well as The Globe Theatre and Southwark Cathedral.
How you do the London sights, is really down to your interests and time limitations.
Sometimes I skip the Tate and The Globe theatre and stay on the tour bus. There is no hard and fast rule about how you should do the London attractions.
If you continue a bit further beyond Tower Bridge, you'll come to The Tower of London.


---
Sometimes I use my River Cruise ticket (usually included in the price of the open bus tour tickets) and return by boat from The Tower of London to Westminster.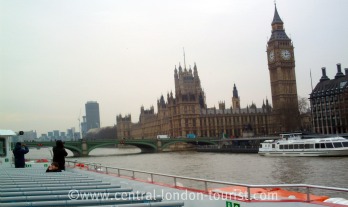 I just prefer it that way. It's another wonderful way to see the London attractions.
---

St Paul's Cathedral , The Millennium Bridge, The Tate Modern and The Globe Theatre are all in one area...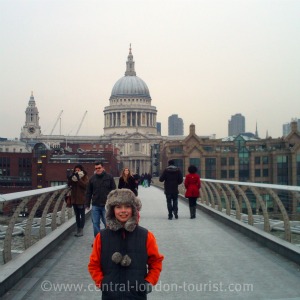 ...St Paul's on one side of the river Thames,

...across The Millennium Bridge are neighbours, The Globe Theatre (on left) and The Tate Modern London (on right).
The walk over the Bridge is well worth doing. The view from both ends is fabulous.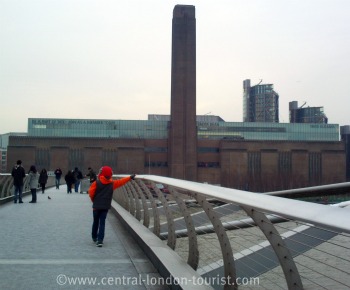 Sometimes after my River Cruise, I will hop on a tube at Westminster and get off at Mansion House to return to these attractions.
It does mean I double back, but sometimes when I am doing the London attractions, that is unavoidable.
---
The London Aquarium, London Eye, Big Ben, Houses of Parliament, and Westminster Cathedral are all very close.
These London tourist attractions are definitely within walking distance of each other.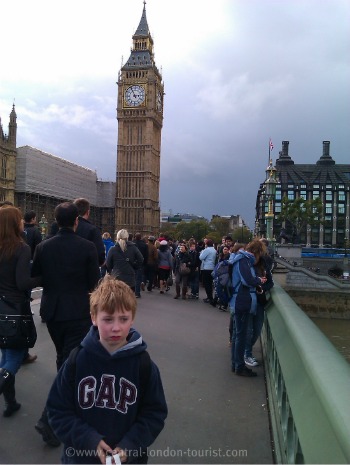 The nearest tube is Westminster.
This photo was taken on Westminster Bridge.
To the right you can just see steps leading down from the bridge to one of the entrances to Westminster Tube Station.
You can access the river cruise stop here also.
Behind me and out of shot is the London Aquarium and London Eye.
Both of these London attractions are on the opposite side of Westminster Bridge.


Grandma took this great picture (below) from the London Eye.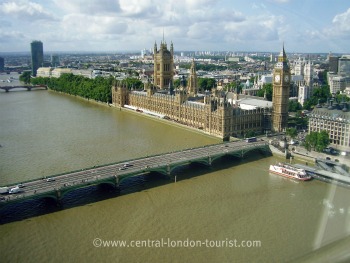 ---
Westminster Bridge to Trafalgar Square can be walked...feet permitting!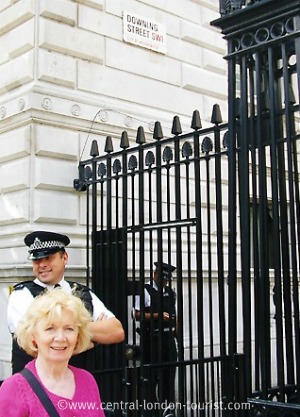 Walk up Parliament Street from Westminster and you will end up in Trafalgar Square.
Depending on time, weather and energy levels, we will either walk, get a bus, or a London taxi.
Along Parliament Street are numerous Government buildings.
This area is known as Whitehall. You may have heard of it!
Granted, you may not have considered this area a London tourist attraction...
...however, it's a nice walk and you will get a chance to stop at the gates of Downing Street.

You might even see the Prime Minister.
I know some people might consider him a London tourist attraction and why not!

---

Nelsons Column, The National Gallery and The National Portrait Gallery are all located in and very near to Trafalgar Square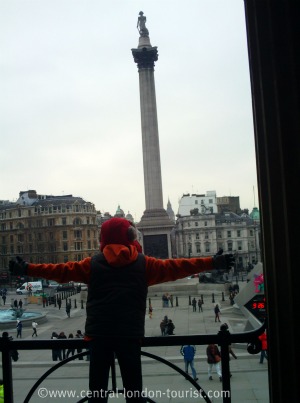 Here is my son standing outside the National Gallery.
We were enjoying the view of Trafalgar Square.
Arguably one of the most well known of the London attractions.
This was where he shouted out...
'I'm the king of the world'
...he really loves the film Titanic and Jack Dawson!!
From this view, Parliament Street is directly behind Nelson's Column.
If you look closely you can just see the tip of Big Ben.

The National Portrait Gallery is two minutes around the corner from the National Gallery. You can't miss it.
Further on in this general direction is Theatre Land, Leicester Square (for discount theatre tickets) and Covent Garden Market.
These well known London sights are a bit spread out, so depending on which area you are heading to, you may decide to walk or use London Transport to get to these attractions.
Charing Cross tube station is also right by Trafalgar Square.
If you're unsure, just ask someone. There are plenty of helpful people around.
I find locals can be a great source of London tourist information!

There are so many other London attractions to see. The museums in London are arguably the most well known of all the UK museums.
They're also extremely close to each other, which is handy!
Trafalgar square to Buckingham Palace is a fabulous walk. It could take you 15-20minutes at least.
But you get to see some highly recognisable London sights along the way.
---
One of my best tips when seeing the London Tourist attractions is this:
Do not pressure yourself to see it all.
There are just too many London attractions to be covered.
Relax and enjoy the things to see in London that will fit in with your plans.
I can't say it enough - be flexible!
Especially when it comes to seeing the London tourist attractions!

---
London Tourist Attractions