Tate Modern London
The Tate Modern London is amazing.  Well we think so anyway!
Here in the diary and on the blog you can read about our personal experiences and views about visiting the Tate Modern.
Alternatively you may need more in depth travel information, like how to get there or where it is in relation to other tourist attractions.
If we've done it, we'll show you how too...for FREE!

---
Going to the Tate Modern London had never really been on our radar to begin with.
We normally find ourselves in a London art museum rather than a London art gallery.
Therein lies the difference.
I guess the clue is in the name - modern and gallery!
If you understand modern art, it'll be a breeze. 
If, like my Dad, you think it's a lot of people taking the mick out of us all...
...I still think you should at least give it a go.
---
The Tate Modern Art Gallery is housed in a massive and very impressive building.

---
Located in the former Bankside power station, the sheer enormity of the Turbine Hall will amaze you.
British architecture and modern art London at its best.

This picture shows only a fraction of it...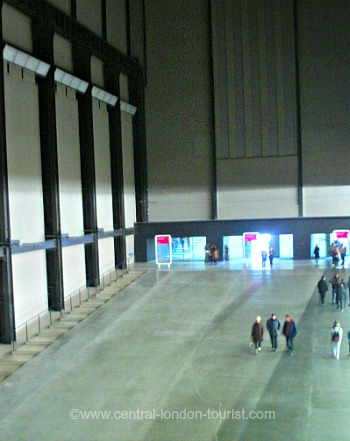 ---
What's it all about then?

As you know, if you are looking for modern art in London, The Tate Modern is your man.
The permanent collection is spread out over several floors.
You will enter huge white rooms with various pieces of contemporary art.
You'll see modern art exhibitions, pictures, displays...

...Warhol and Picasso are but two of the famous names you'll encounter.
If you are into contemporary art, you will appreciate the Tate Modern art gallery completely.
If like me, you are not, then you may find opinion divided amongst you.

Some pieces may confuse you...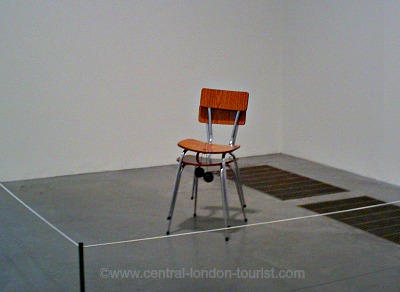 ---
...or even mesmerise you.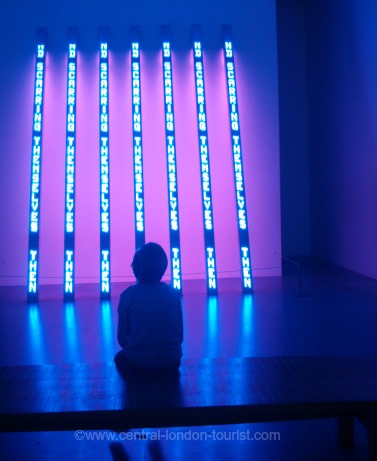 ---
Others may remind you of a pile of..., well let's just say my Dad had an "I told you so" moment when we studied this...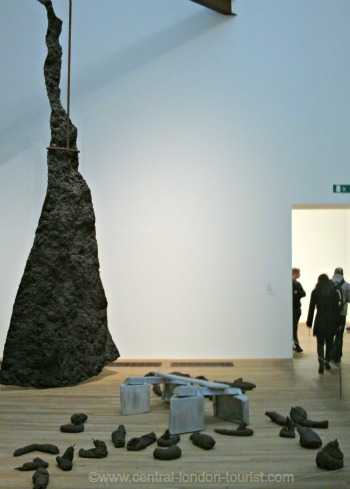 ---
But whatever your opinion about the Tate Modern art gallery,  I learned that sometimes, without you being able to put your finger on why, you'll just get it.
 This next exhibition was one of my favourites...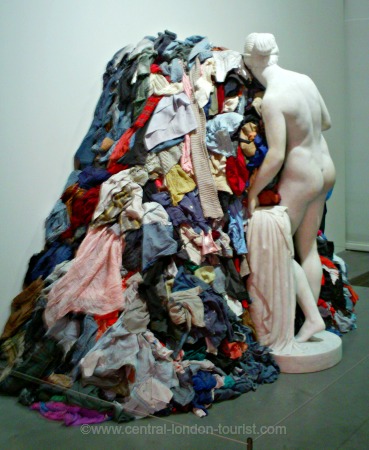 ---
Will children enjoy it?

Us parents know what an open ended question that is!
Knowing what to do in London with your young explorers can be a headache.

My personal opinion is that children should be exposed to art in whatever shape or form. 

I don't mind if we don't get all of the pieces at the Tate Modern London.
In fact I know we won't.
To me that doesn't matter.
Kids are not self-conscious enough to let that worry them.  They just see it and experience it from their perspective.
Whatever comes out of your day, at the very least you'll have a good debate at the end of it.
It helps that The Tate Modern is very child friendly and has loads of interactive and free stuff for kids to do.
---
Want one of my top London tips?
The Tate Modern art gallery is a massive building. 
As we know, tired feet can ruin the most fantastic of days out. So it's worth bearing in mind.

I find the promise of a hot chocolate in the fabulous Tate Modern restaurant is always enough to keep us going.
It's definitely the best restaurant in London to get a birds-eye view of Canary Wharf (or the Gherkin) and the Millennium Bridge (below).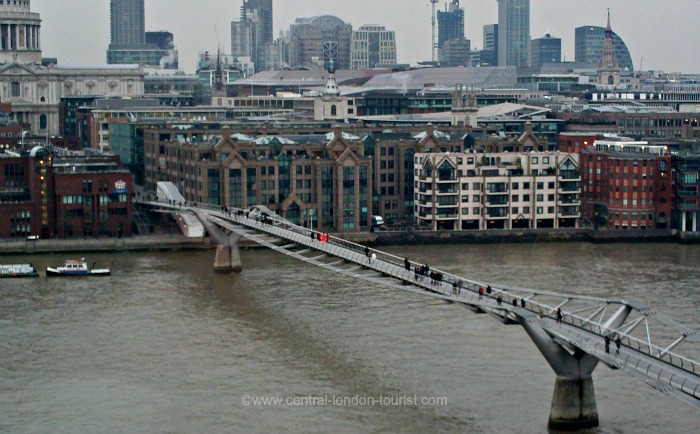 ---
How do you get to The Tate Modern Art Gallery?
The Tate Modern is located on the Southbank. 
My favourite walk route is to go from Westminster Bridge, past the Eye of London and keep walking...it is a long walk, but fabulous in good weather.
If time is of a premium I would normally get a tube to either:
Mansion House (District or Circle Lines) or

St Paul's (Circle Line)
You can then walk down to the Millennium Bridge and walk across.
The view from both ends is amazing.
The Tate Modern art gallery at one end...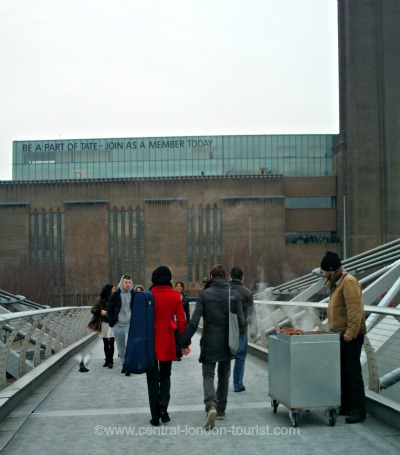 ---
And St Paul's Cathedral at the other...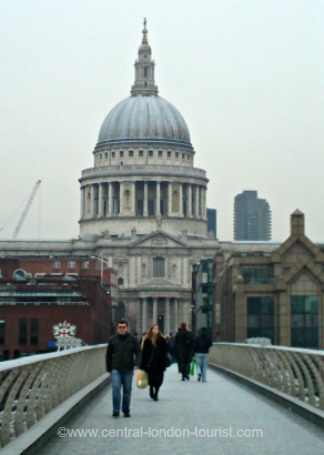 Absolutely Stunning.

---
Southwark Station (Jubilee Line) is on the same side as The Tate Modern and is a shorter walk, if you prefer.

Alternatively, if you're on one of the London bus tours your London sightseeing map or tour guide will show you where to get off.
There is also a "Tate to Tate" river bus that runs every 40 minutes.  running between The Tate Modern art gallery and the Tate Britain.

Check out Transport for London for further details on public transport or river bus services.

---
How much does it cost to get into The Tate Modern London?

If you're on an inexpensive family vacation and looking for cheap family fun ideas - you'll be pleased to know it's free to get into.
Art by world-famous artists, for nothing?? How fantastic is that!
There are often visiting exhibitions which carry a charge, but if you are into contemporary art and you understand it, then it'll be worth paying the extra.

If you can, give the Tate Modern London your time. 
I can't tell you if you'll like it or not, all I can say is don't let any pre-conceived ideas about modern art stop you.
Go and make your own mind up. 
---
We want to hear from you!



Have you been to the Tate Modern London?

What did you love or hate about it and why...



Does it fill you with disappointment when people "diss" modern art?  Let us know about it.





Or maybe you think modern art is all a load of codswallop!



Let off some steam and get your views published here.


---
Home

›
Museums
› Tate Modern