The Natural History Museum London...
A truly fantastic place to explore!
The Natural History Museum London, is without doubt one of our favourite museums to visit.
It is also one of London's free museums.
Here in the diary or in the blog you'll read about our personal experiences in London.
Alternatively visit our main British Museum of Natural History page for more formal and  in-depth travel information.

---
We have been to the British Museum of Natural History so many times I have lost count. 

But the thing is, we really don't mind because each time we visit,
we discover something new.

It is safe to say we truly love that place.

---
One of the reasons is because there is so much to do.  The building is absolutely massive and I think you really must take that into account when planning your London trip.
You will not get to do everything in one day, unless you're a really dedicated tourist that is!
This is true of the majority of the main museums in London.  They are enormous in fact.
You'll find that some parts will interest you and others won't.

But the museums in London all have great maps in place and are usually split into "zones".

Studying them first will help you make decisions on where to go.

Here are just two of the zones at the Natural History Museum in London.
---
You'll find there is a lot of interactive stuff for the kids (and adult kids like me) to do. 


My son has been visiting since he was three years old...
...he's ten now and he still

finds something to test his

skills on.

I don't remember ever having a boring trip to the British Natural History museum.

Ever!
---
If we had to pick a favourite part though, it would definitely be the dinosaur zone.
I think most people will agree, you can't beat a dinosaur...no really, you can't...they're extinct.
And if you weren't 100% sure before, the hundreds and hundreds of dinosaur exhibits, facts and dinosaur skeletons should convince you further.
If you want to, you can immerse yourself in facts about the dinosaurs, while the kids marvel and "wow" their way through the exhibits.
Be careful though, if you have little ones they may get a bit scared when they discover the animatronic dinosaur.

He's very angry and has a loud roar...alas my son is now too grown up to be scared and just laughs in poor old dino's face.

---
We also developed a very strange British Museum of Natural History tradition over the years. 
Don't ask me how this happened, but this little blow-fish became a favourite. 
Probably after my son, in his three year old innocence, just could not believe this fish existed.
He stared at it for what seemed like forever.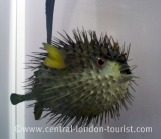 He even named him...Barry. 
So now we still go and see Barry the Blowfish, he's lovely.
If you do happen by him, say hello from us.

---
Even if you suspect that visiting museums in London might not be your thing, don't write this one off.  
The building itself is worth seeing.  Inside and out is absolutely stunning. The architecture is amazing.

I hope you have a great time if you decide to visit the Natural History Museum London and you've nothing to lose...it's one of the free museums!

---
Further information about British Museum of Natural History
Address, Opening Times, How to get there

Read what fellow tourists have to say...
Central London Tourist Main Site

---
Home

›
Museums
› Blog