Imperial War Museum London
We LOVED it there!
The Imperial War Museum London is one of five museums under the umbrella name of Imperial War Museums.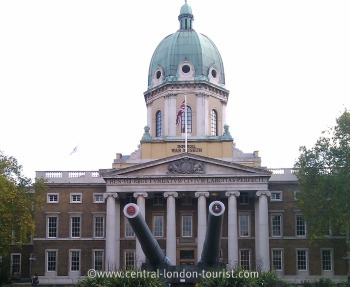 In London, HMS Belfast, the Cabinet War Rooms (or Churchill Museum as some call it) and the London Imperial War Museum (or British war museum) are three of the five, the other two museums are not based in London at all.
The nearest tube stops to the Imperial War Museum London, are either Waterloo (accessible from Bakerloo, Northern and Jubilee Line).
Or Elephant and Castle (accessible from the Bakerloo and Northern Lines).
You could also get off at the following:
Lambeth North (Bakerloo Line) or Southwark (Jubilee Line)
If you decided to get a bus, the following buses will take you there:
1, 3, 12, 45, 53, 59, 63, 68, 100, 159, 168, 171, 172, 176,188, 344, 360, 453, C10
As always check out Transport for London's website for planning your journeys.
In case you missed it, you can find the link for LFTs journey planner within my article about the Natural History Museum.
---
Will the Imperial War Museum London be interesting?
Before I visited the London Imperial War Museum, thoughts of what I might find there conjured up images of boring 'boy' stuff.
At no time did visiting the IWM London, ever pique my interest. I felt it would be a complete waste of my time to go.
I hadn't counted on my son's enthusiasm for visiting though.
On one of our many trips to London, my son pleaded with me to go there.
I was reluctant I have to admit.
But it was on my son's list of things to see in London and as our trips are about having family days out in London, I had to swallow my feeling of impending boredom and go along.
Once we got there, I was so glad that that I had.
The IWM London is far from boring.
It is a wonderful museum covering war from WW1 right up to the present day.
It doesn't glorify war either, rather it tells the true story of war from the perspective of people who were there.
The exhibits at the London Imperial War Museum moved me to tears at some points.
Some of the most evocative experiences were from the exhibits where we saw original films of the World Wars, along with photos and personal accounts recorded by those who actually lived through these times.
It was a truly moving experience.
I absolutely loved it there, can you tell?
---
What will you see at the Imperial War Museum London?
Before you even enter the building, you will see two massively imposing warship guns, located at the entrance of building.
These guns came from two naval ships and both were fired in action in WW2.
Upon entering the Central Hall of the IWM London, you'll be in for a treat...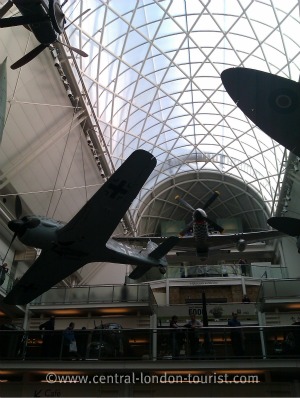 Photos do not do it justice.
When we saw the exhibition of aeroplanes
above our heads...
...we were both left
awestruck!
In my opinion whether
you are a child,
adult or enthusiast
you will find this
first display
truly amazing.
---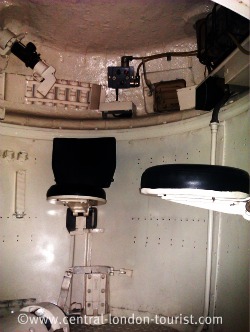 There are a lot of permanent
exhibits at the London IWM.
Covering the period from WW1
right up to present day conflict
You'll also find interactive
displays which children (and adults)
will love.
We were able to see what the
inside of a real tank looks like...
...very small!
As well as other examples of different types of vehicles used used back in the day...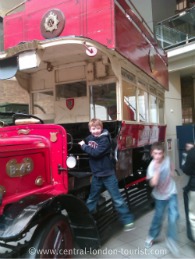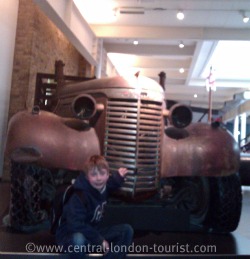 ---
What was our favourite exhibit at the Imperial War Museum London?
That's a difficult one!
I couldn't pick an absolute favourite because there were so many free exhibits that were amazingly interesting.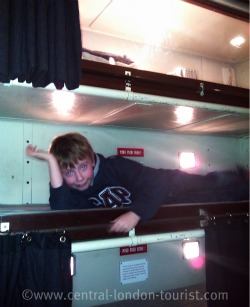 But if you asked my son...
He would say the submarine!!!
This exhibit allowed children and adults to see what the inside of a submarine is like.

(Without actually having to go inside one).
It was brilliantly interactive and
allowed visitors to really
appreciate the size and
close proximity within.
You could even try out one of the bunks for size...

---
How much does it cost to get into the Imperial War Museum London?
As the IWM is one of the free museums in London, going to see the permanent exhibitions there will cost you absolutely nothing!
Good news!
As with a lot of the museums and galleries, the London Imperial War Museum often has extra exhibitions on which may have a charge.
And as it's your choice to go into them, you can decide whether to pay the extra or not.
---
So what else can I tell you about visiting the London Imperial War Museum?
Refreshingly, the IWM in London is not absolutely massive like some of the other museums in London. If you only have half a day, you'll be able to comfortably wander around and enjoy the museum.
The staff are really friendly and helpful too, which helps if you need any advice about whether to visit extra exhibitions while you are there.
The Imperial War Museum London is located in Lambeth, which is a bit of a walk if you are around Central London sightseeing.
Want a top tip?
In my early days of asking directions in London, I learned a lesson the hard way...
...oftentimes (for whatever reason) people seem to vastly underestimate walking times when you ask their advice.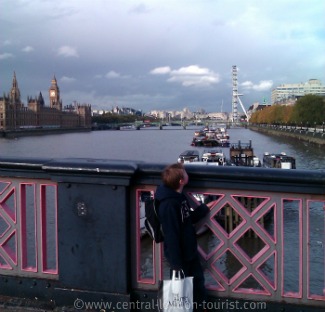 I took this picture on Lambeth Bridge, on our first ever walk to the London Imperial War Museum.
A kind chap in Westminster had sent us this way from the other side of the Houses of Parliament.
He assured us it was a 10 minute walk and I don't doubt he believed that himself.
It took us half an hour!
I now know we would have been better off walking over Westminster Bridge.
Still a bit of a walk, but no where near as long.
On our subsequent visits we have taken the tube!
Thankfully the cafe at the IWM London served beautiful creamy coffee...
...which helped my curses and blisters on that very first visit.

---
One final obscure fact for you...
Did you know that the London IWM is housed in the old Bethlem Hospital? Also known as Bedlam?
And yes this is where the word 'Bedlam' orginated.
I was absolutely thrilled when I learned this.
The Imperial War Museum London is full of surprises and am I delighted that I went along to discover that.
Imperial War Museum London