Carnaby Street London
Worth a visit?

Visiting Carnaby Street London is not necessarily a must.
Its a question of what your needs are and the time you have available for all the places to see in London.

If you're not that fussed about the shops and are only going because everyone has heard of Carnaby Street-

-then I would would suggest that you might be wiser to spend your time on other tourist attractions in London.
If you're not interested in shopping, then really, you won't miss much at all.
However, if you have the time and you want to browse around some really cool shops, then go.
One thing you will definitely find in Carnaby Street London is cool shops.

---
Getting there is easy enough.
We got a London taxi last time (tired feet) but if you are travelling by tube, get off at Oxford Circus (Bakerloo,Central or Victoria lines)
Carnaby Street London consists of pedestrianised streets (Carnaby being the main one) with other streets and smaller side streets off those, containing a ton of shops.
Some more mainstream (like Storm of London and the original Ben Sherman) and other independant or boutique types.

If you're unfamiliar with the area, but want to know what shops are where...then take a look at this map first.
You can even download a copy. 
I cannot recommend doing this enough.  You will know exactly where you need to go.

It'll save you heaps of time...
...which means more shopping time!
---
You'll also find these Carnaby Street local shopping guides located on the walls of various buildings, keep an eye out for them....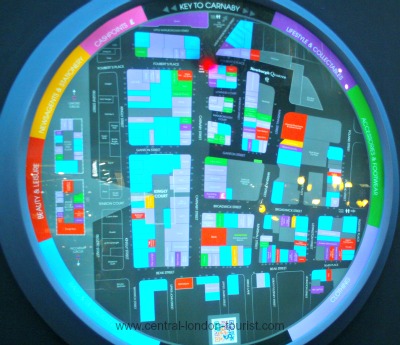 ...They're a handy "on the spot" guide to where everything is.
While there may not be as many one-off or independant retailers in Carnaby Street London as in years gone by, you'll still find some gems.
If you happen to have fashion conscious kids with you, there will definitely be shops that will interest them.
There are plenty of places to eat or have a coffee...be warned though, at busy times narrow streets and crowded eateries might not be your idea of fun.

---
Carnaby Street is probably most well associated with the swinging 60s and the mod movement and there still are some mod shops there like Sherry's (Ganton Street - off Carnaby).

I loved looking in their window.

But if you're expecting to see cool mods swankily strolling down the street, you'll probably be disappointed.
I have never seen any. 
Although I did see a really amazing retro 1980's punk in Covent Garden Market...but that's a story for another page!
---
The last time I went to Carnaby Street was at Christmas and the most reference I saw to its famous past were the decorations above the street.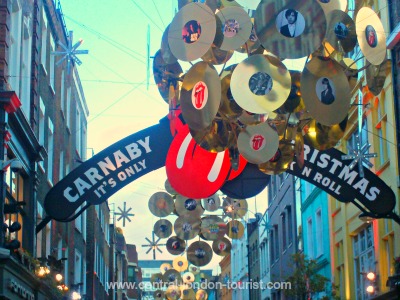 They were definitely impressive and gave a sense of the area's iconic past and the culture in London at that time.

---
If you're past all that "being cool" business though and all you want to do is to visit and say you've been there, well go ahead. 
Take a stroll, do a bit of window shopping and maybe stop off for a good old British pint in one of the pubs...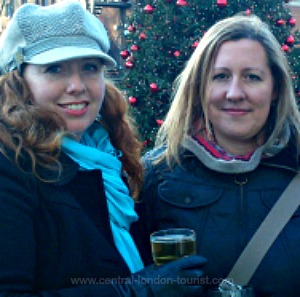 ...that's what my friend and I did. Well, it was on our list of things to do in London for that day.

But Sshhh don't tell anyone, we're still supposed to be cool!
---
Home

›
Shopping
› Carnaby Street